Studio Flamenco's company of musicians and dancers conjure memories of daily life along the Guadalquivir River. From the region of Cadiz, through Sevilla and Cordoba, and ending with a fiesta in the gypsy quarter of Triana, Recuerdos is a cultural journey the whole family can enjoy.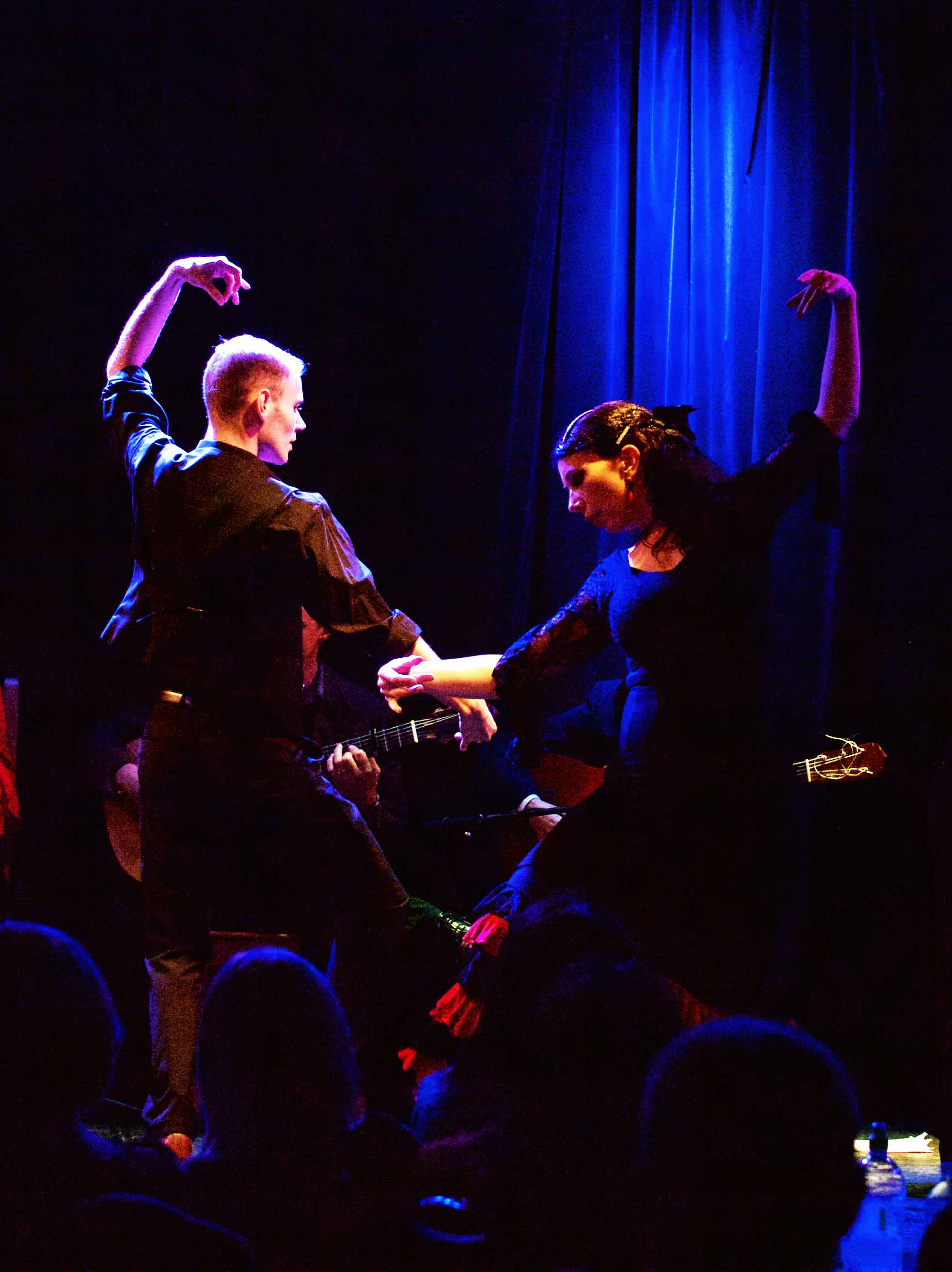 Adelaide Cabaret Fringe 2018
***RECUERDOS - WINNER Best Ensemble***
CONCEPT Yasmine Hilton & Emma Fernée
CHOREOGRAPHERS Emma Fernée, Susi Masi, Yasmine Hilton & Daniel Lyas
DANCERS: Emma Fernée, Susi Masi, Daniel Lyas, Yasmine Amber, Melissa Walker, Satoko Kelty, Matina Kritikos, Olivia Guarna, Pei Ru Chao, Gabi Baltic
MUSICIANS: Marduk Gault, Aloysius Leeson, Zoe Veléz, Adrian van Nunen

Recuerdos premiered at Nexus Arts in June 2018 as part of the Adelaide Cabaret Fringe Festival.
For a downloadable PDF of the Recuerdos program click here.
REVIEWS
"Olè, olè!!! These are the only words you'll be saying all night after you see the electrifying performance that is, Recuerdos ... you will feel as if you are in the heart of Seville whilst experiencing this showstopping routine... four incredible musicians and ten exotic flamenco dancers take the stage for an hour that will have you captivated for every little second... truly magical... intense, fierce and outright spectacular! ...The whole room comes alive with rhythmic sounds and bold gypsy-like costumes. Every single stomp of the dancers runs through your body and mixed with the harsh strums of the guitar makes it that more electrifying! You do not want to miss out on this, so go and grab your tickets this instant!" ★★★★★ (Fresh FM) [https://fresh927.com.au/recuerdos-a-flamenco-extravaganza/]
"Highly entertaining, the artistry and technique of the musicians and dancers was inspiring. The evening had a wonderful dynamic range that kept me entranced right to the end. The footwork was amazing. I left the show thinking, "I want to do Flamenco now!" (Dance Informa magazine) [https://dancemagazine.com.au/2018/06/a-journey-through-the-andalucia-region-in-spain-with-studio-flamenco/]
"An intoxicating experience full of bright colours, rhythmic sounds and joyous emotions" (All Over Adelaide) ★ ★ ★ ★1/2
"The dancing is strong, precise and exciting... This carefully crafted program shows a new feeling of ensemble in Studio Flamenco, of the dancers being a company well supported by their singer and instrumentalists…" (The Adelaide Review) [https://www.adelaidereview.com.au/arts/performing-arts/review-studio-flamencos-recuerdos/]
"A beautiful collision of colors, cultures, and camaraderie... The moment the dancers walk onto the stage, they turned up the heat with their captivating foot-tapping, hip-shaking, and rhythm-syncing movements... It's one of those shows where you won't be able to look away, as the dancers take charge of the stage... where the individuality of each cast member shines throughout the solo and group-based segments of the show... This is a high-class performance of world dance that was spectacular and bursting with energy... it will almost instantly make you want to plan your travels to the streets of Spain ASAP." ★★★★★ (Weekend Notes) [https://www.weekendnotes.com/studio-flamencos-recuerdos-adelaide-fringe/]
'This family-friendly performance is a delight from the beginning. There is so much joy and skilful dance and music in the performance, the audience cannot help but be swept along by the excitement. Fiesta de Triana is the final scene and the company enters in a blaze of colour echoing the Gypsy flamboyance of the district. By this time the audience are stomping and clapping with the company and the Spanish speakers in the crowd are chiming in with gusto. … This group is an Adelaide treasure with passion, skill and endless devotion to their craft. Long may they dance, entertain and prosper.' - (Theatre Travels) [https://www.theatretravels.org/post/review-recuerdos-at-nexus-arts]
For upcoming performances please visit:
Want Recuerdos in your venue? Ask us for a quote here: